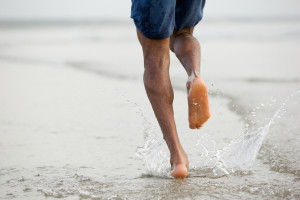 It's hard to believe that summer is winding down.  Here in Minnesota the Minnesota State Fair starts soon and wraps up on Labor Day.  Nothing in Minnesota signals the end of summer than our State Fair.
Take a look at your feet and notice what shade of color they are.  Do they look like they've been exposed to the sun?  Are they a darker shade than normal?
You know it's been a good summer when your feet are tan because that is a  sign you've been outside.  Not only that, you've been barefoot and your feet have been connecting with the earth, the sand, and water.
Is that so important?  If you think about our evolutionary history, we have spent more time as a species outside than in.  We have spent more time barefoot, connecting with nature, than we have been with shoes on.  We have been exposed to fresh air, sunshine, and solid earth below us.  We are wired to be outside. But most of the time we are relegated to being inside most, if not all day.
This summer I've made every attempt to be outside. That's easy on weekends and on vacations, but I've given my best effort during the work week too. Over lunch, I've walked outside in the park behind my office complex and I've taken most of my conference calls outside as I walk.
I've found that I get more out of my conference calls when I'm walking. When I am at my desk, it's too easy to check my email, surf the web, or look at updates on LinkedIn. (You know you do this too) But when I'm walking while on the calls, I'm more focused and find it easier to pay attention. I think it's because I'm outside and I'm moving.
This summer my feet have been exposed to the sun, earth, and water through spending time sailing at the family cabin, walking barefoot at the park, and swimming in both lakes and pools. My feet have a healthy glow (even though my arms still have that farmer's tan).
As Summer winds down I want to encourage you to get outside every moment you can. Walk in the mornings, at lunch, or after dinner.  As the days get shorter, take a flashlight if you need it. Go to your local park or trail system. Walk, hike, or run.  Regardless of your ability, get outside.
I'm a stickler for being outside because it's so good for our mental and physical health. My goal is to get outside regardless of the season and temperature.  For those of you that live in cold country like I do, you'll understand the challenge with that.  But I find even when it's cold, its great to be outside as I shovel snow, cross country ski, and take winter walks.  It's all good (but I do prefer warm weather).
My feet will start to lose their tan as the days start to grow colder here in MN. That's OK and I'll look  forward to being outside in beautiful  MN fall weather.
(What questions or topics would you like me to write about?  Send your ideas to dennis.robert.bird@gmail.com)