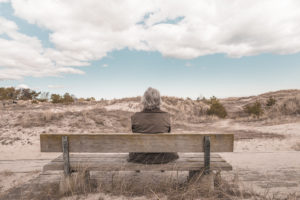 I have to admit it, but I'm deeply flawed and a little crazy. Aren't we all?
Much of life is geared about trying to seem normal and healthy to all those around us. In the workplace and around our friends and acquaintances we work hard to show only the positive things in our lives. We are smart, witty, and engaging. Everything is going well and we are all happy.
Sometimes I'll hear people say, "Wow Bob and Mary seem to have it all together. They have great jobs, a beautiful home, and their kids are amazing".  While  that looks true I usually think, "That can't be true. Nothing is ever that perfect".
What's with the negativity?  If I'm honest I am flawed and some of my thinking is a little crazy and I'm not the only one. My wife and kids are flawed and their thinking can be a little crazy too.  Flawed and crazy is a human experience.
The sad truth is that we all work too hard holding up a facade we hope people believe because we are afraid of social and psychological rejection.   But trying to be perfect and maintaining that facade takes a tremendous amount of physical and psychic energy. Day after day and year after year of trying to appear perfect only adds stress to an already complicated life. It's not worth it.
Why is admitting that I'm flawed and a little crazy a good starting point for life? 
First, because it's true.
Second, because we don't have to work so hard trying to look and behave like perfect people.
In the On Being podcast, host Krista Tippett interviewed relationship expert and  philosopher Alain de Botton.  In this interview Alain states that healthy relationships are those where individuals understand they are deeply flawed and that their partner is deeply flawed too. In this relationship the couple is not looking for their partner to meet their every need, but see the relationship as a way to help each other become their best selves.
If we start our relationships with the ideal that other people are and should be perfect, then we are headed for disappointment and disillusionment. If our friends or partners expects us to be perfect, they are headed for the same disappointment.
Here's a link to the blog and podcast: On Being With Krista Tippett
By embracing my flaws I can have compassion on myself  and that compassion can extend to those around me. I believe that we all do the best we can given the context we are in and the knowledge we have. No one is trying to consciously try to screw up their lives. We are all doing our best and if we could give each other a little compassion for being human, we will all grow in the right direction.
Embracing the fact that we are all flawed isn't a justification for our behavior, but it does explain it. The goal is to continually evolve and grow in life and embracing your flaws is a part of it.
Here's are handful of my flaws and crazy thoughts that I know my friends and family have to experience:
When I feel I'm right, you'll know about it
If I  believe it, I want you to believe it too.
I'll convince you of what is right.
If you are not convinced, then it's your fault.
I need to be right to be OK.
As you can see these are not very generous ways of living with others, but these are flaws that I'm working on and my goal is to have awareness of my crazy thinking and behaviors. I don't have to act out on them and let them interfere with my goals and relationships.
Having awareness of our flaws and crazy thinking is a great starting point for living a intentional and meaningful life . Living without awareness will hamper our ability to authentically connect with others.
Embrace your flaws and crazy thinking as a great starting point for having meaningful and intentional lives.